Those of you who came on the tour of my Victorian drawing room will not be too surprised when I tell you that I often feel like a not-so-modern version of Queen Victoria. I don't mean in a
creepy,
National Enquirer "My Previous Life as an Empress" sort of way; only that I have found that I share certain values and ways of thinking with this estimable lady, her contemporaries, and her
zeitgeist
.
(Image from blogs.scientificamerican.com)
"Inside the Victorian Home" (written by Ms. Judith Flanders), is the title of a deeply engrossing and eminently readable book that I have perused several times in my quest for historical verification of my lifestyle. Ms. Flanders expounds in great detail on the many issues of the Victorian era, and it seems that the Victorians developed certain peculiar obsessions that – to my delighted surprise – I find that I have shared since childhood. Let us explore some of these fixations.
One of these peculiarities I even remember learning about as time-specific in my earlier days as an art historian. It was during this era that the production of household goods, such as linens, silver and fine china took off in scope and volume in a way never seen before or after. Never previously had a dinner table been set with such elaborate profusion of vessels and utensils, and never before had such a deeply felt need of uniformity and perfection been experienced. Hence, the 248-piece, or the 562-piece dinner service in one single, compulsive, cohesive pattern was born. Yes, of course there had been dinner services before, but never with the same obsessive need to have a "complete set", with endless bone plates, consommé bowls and salt cellars, where everything had to match, from beginning to grand final. The same principle was soon applied to other areas of domestic life and interior decoration as well, with complete sets of everything from furniture to toiletries. This gave rise to the whole concept that we in the decorating business like to refer to as "matching stuff".
Even as a small child, I used to be incapable of picking just one acorn, say, and take it home and be satisfied – no, no, it had to be a "complete set" of acorns, whatever that may have been, the "completeness" being some arbitrary number that would present itself in my young brain: maybe six or ten acorns would be satisfyingly complete. Slightly weird, but I can see the pattern now… As an adult, I have retained a fondness for matching sets of stuff, seldom capable of buying just one pretty plate or glass – because it just feels so much better, somehow, to buy a minimum of eight. (When it comes to shoes in particular, I'm terrible – I can never be happy with just one single shoe, however pretty; I always, obsessively, buy two!)
It may therefore come as a shock to us all that
I have wholeheartedly embraced t
he current fad for "mismatched" table settings – because it feeds into the collector's mindset of basically buying a bit of EVERYTHING and enjoying it all AT ONCE – but there are times when I do a mental double-take, and have to gently talk myself down from the peaks of anxiety that sometimes interfere with this relaxed outlook.
Incorrect application of the "mismatched" concept - one that would, rightly, give the Monarch the hiccups!
But be warned – it isn't as relaxed as "they" would have you believe! The whole "mismatched" business is an art in itself: you still can't have eleven matching wine glasses with just the twelfth one breaking the trend – you have to have a balance in this system as well, with six or four of each kind, or twelve different ones altogether, or some other mathematical formula that will produce a charmingly "spontaneous" look… Am I getting out of control here? Aaargh! Give me a Complete Set!!!
Designated Tools & Spaces
The Bowl Quiz
In the Victorian universe each space,
each tool,
each object has its own, specific use and may not – positively CANNOT – be interchanged, confused, or otherwise mixed up with another purpose. And no, I don't have an Obsessive-Compulsive Disorder, I really don't. I'm just charmingly archaic. And it disturbs me on a very deep level when I sometimes see a person – such as a certain Significant Other – eating his cereal from (oh, no!) a mixing bowl, when it ought to be so crystal clear to every discerning mind that mixing bowls and cereal bowls – or even soup bowls, for that matter – differ vastly from each other. How? They just do.
So, here is a quiz for you: Which two of these bowls may be used for correctly eating cereal - whether hot or cold? If you answered anything other than the two bowls on the middle level, you are as sadly mistaken as that SO I just mentioned.
On the top shelf we find a serving bowl (left) and a pasta bowl (right); on the counter top, from left to right: a soup bowl, a mixing bowl, and another serving bowl. See - that wasn't so difficult, was it? (And before you call the Husband-Protective Services I want to inform you that, with my usual tact, I do not interfere with my husband's life choices; I merely shudder, imperceptibly.)
No, if I do have an obsession it would be with containers. Round tins, square tins, oblong tins, drawstring pouches, zippered pouches, stationery boxes,
pillboxes, hat boxes and just plain
boxes, cases, jars, bags, purses, caddies,
folders
and envelopes. I buy them, I collect them – and I never have the one size or shape I need!
A small part of my obsession
A particular favorite - from Blue Q
When I prepare to travel, I can buzz about my packing for surprisingly long stretches of time looking for just the tin, the pouch, or the perfectly sized box that will serve as the ultimate protective case for whatever item it is I want to bring on my journey. Traveling light? Not Queen Victoria – not me.
And a couple of close-ups...
... and let's not forget the hat boxes on top of the Pink Cabinet...
I do not (yet), as Queen Elizabeth II does, travel with my own white leather toilet seat, but I have given it some thought… But every other tasteful accoutrement that could possibly become useful in some remote emergency scenario, and that is not positively nailed down – I'm packing it! Just ask the dear Prince Albert - he can tell you! "Poor man" you are thinking now, "all that heavy lifting." Not so. He explained to me at an early stage of our marriage that his – rather impressive – muscles were purely cosmetic. They are no use at all. I do my own heavy lifting.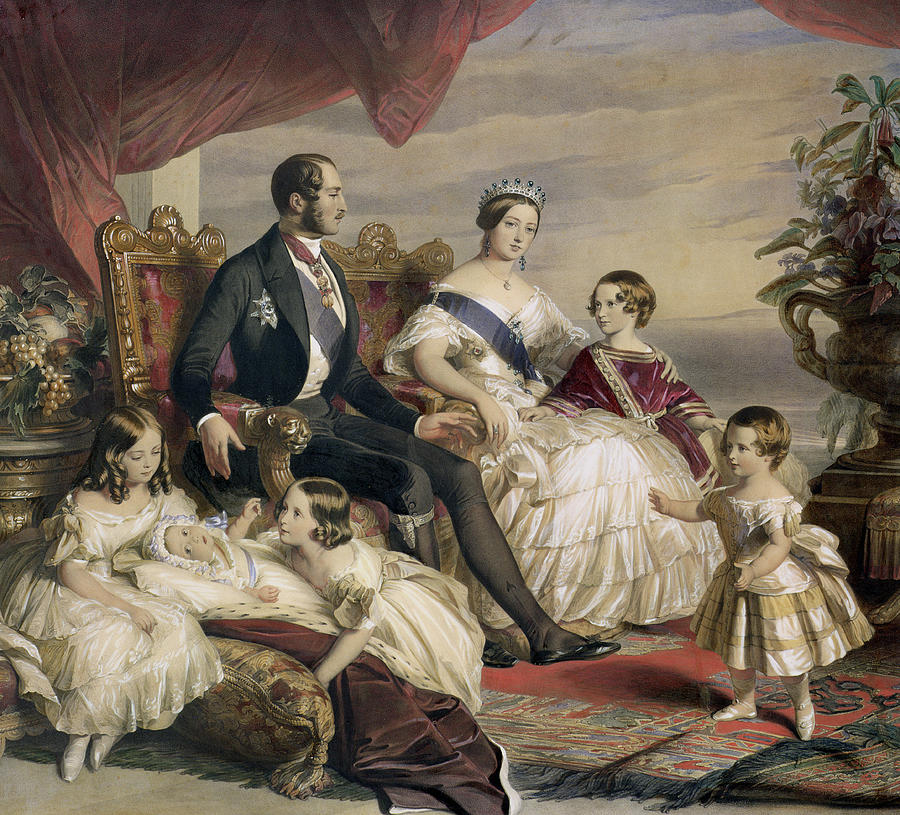 Queen Victoria with dear Prince Albert and some of the royal offspring in 1846.
Painting by Franz Xaver Wintherhalter 1805-1873.
(Image from fineartsamerica.com)
Oh yes, dear Queen Elizabeth II – so modern, so sporty and casual; practically a hoyden by our standards – I am just now reading "Dressing the Queen: The Jubilee Wardrobe" by Ms. Angela Kelly, about the royal wardrobe (blessedly free of any malfunctions), and funnily enough, fascinated though I am by fashion and style (in which area Ms. Kelly, the royal designer and curator, sadly
seems
to be somewhat lacking), I find myself even more inexorably drawn to the comments dealing with the arcane details of court procedure, all the while deploring the descent into modernity that has become so rampant even in this elevated place.
In fact, I am so agitated by this that I must go and look for my smelling salts now, and I may have to conclude this discourse when I feel stronger...
Regards from your Victorian Rosebud!